Summary: What is better for a CEO? Using Facebook, launching a word-of-mouth or buzz marketing campaign, or blogging from the World Economic Forum 2015 in Davos or #WEFdavos?
We show you how to decide.
This is the first blog post about WEF Davos 2015; check out the second post here.
1. KPIs without benchmarks don't cut it
The question for any academic, CEO, entrepreneur or NGO worker is: Should I take advantage of Klaus Schwab's standing invitation for me to join him at this year's World Economic Forum? We can answer this question according to our gut feeling, or more systematically, using benchmarks and KPIs to decide.
KPIs are interesting. If they work properly, they are mighty useful. However, without some kind of guidance in the form of a benchmark, their usefulness can be questionable. In many cases, they are part of a navel-gazing exercise.
Sometimes, a trend analysis (e.g., comparing July 2014 with July 2015) can indicate certain things (drop or increase in numbers). However, without looking beyond the obvious, we will not know how to achieve a repeat. In other words, what key drivers helped us improve so much (e.g., an ad campaign, press coverage, or what)?
To guide us through the maze, we need some kind of benchmark. Without it, we will not know how well we perform in comparison to our competition.
Accordingly, you want to get the facts before deciding:
– our blog fails to achieve the impact we want (see our DrKPI Benchmark: Top 100 NFL blogs by January 30)
– your CEO, blogging from and about WEF Davos 2015 achieves impact – or not (DrKPI Benchmark: Top 100 CEO Bloggers by January 22).
2. Benchmarks help clarify things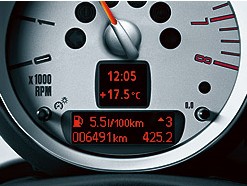 Learning from mistakes in order to do better is at the core of benchmarking. At its heart, this excercise involves continuous improvement.
There are four strategic reasons for using benchmarks; all of them help improve performance.
1. Setting objectives and action programs. Know where you are and where your are going. Benchmark ratios are inherently measurable and comparable. They help you focus your attention on the most controllable aspects of your online and social media activities (e.g., blogging for results).
2. Monitoring your performance. Keep your eye on the ball. Benchmark ratios provide an objective standard by which to measure your website or blog performance. By tracking key measurements at regular intervals, you can pay closer attention to those key factors that affect your firm's performance. Follow the numbers, and they will set you free.
3. Sharing the results with your team. You should communicate your results internally and externally. Benchmark ratios enable your investors, owners and clients to objectively evaluate your online media efforts and positioning (e.g., branding).
4. Convincing your stakeholders with your benchmarks. Clients and business associates can use them to better understand your strengths and weaknesses when it comes to social media and the web. Use your ratios to better manage your online efforts, securing your annual marketing budget, while spending it even more wisely to improve your bottom line.
Join the 3,000+ organizations using the DrKPI Blog Benchmark to double reader comments in a few months while increasing social shares by 50 percent – register now!
If you are serious about improving your company's performance regarding online marketing and achieving an industry-leading position, there is no substitute for a quality benchmarking as offered by services like DrKPI.
3. Word-of-Mouth Marketing sucks
Everybody wants to produce contagious content (see Making word-of-mouth marketing work). However, the mantra has to be:
Make meaning, not buzz. Make money, not web traffic!
To help you blog more effectively, you need SMART metrics (specific, manageable, actionable, relevant, trending performance measures) that follow the KISS principle (keep it simple, stupid).
For instance, CEO bloggers want relevant blog metrics for diary, personal and business blogs. In turn, such data provides insight instead of hindsight.
What about Facebook? Will it be useful or should I worry about what Facebook finds out about our customers' feelings, search for love or beer preferences?
More research:
– Research finds computers are better judges of personality than friends and family.
– Computers using digital footprints are better judges of personality than friends and family
– Use Facebook Data to Predict Users' Age, Gender and Personality Traits
– Personality, Gender, and Age in the Language of Social Media: The Open-Vocabulary Approach (download study)
As the above indicates, Facebook may know nearly as much about me or you as your spouse does. Of course, this is the price we pay for getting things for 'free'.
Nevertheless, it may be worth sitting back to consider these results for a minute. In particular, what does this mean about my privacy, my clients' rights, and so forth?
Bottom line
Regardless of whether you accept Klaus Schwab's invitation and attend WEF Davos 2015, check out some benchmarks. Also, consider whether investing in social media, your corporate blog or viral marketing attempts is worth the trouble.
A social media audit can help and might reveal some real surprises (e.g., check out Case study: citizenM overtakes Coca-Cola. If you prefer, call it a cost-benefit analysis. Is the final result worth the expense?
Take the interactive test about your personality and Facebook use: You will need to connect the app to your Facebook account, but it only accesses your Likes and does not post to your wall.
If you lack management support for your social media initiatives, then competitive intelligence is your new best friend.
For instance, DrKPI helps you find the right set of benchmarks to ensure best practice in your corporation.
Why Davos is for you!
The analysis of data from your Facebook activities can better judge your psychological traits than one's family and friends. That is revealing and interesting, but most importantly, it is downright scary.
Here are some slides that specifically help you use benchmarks and competitive intel better than the next guy.
[slideshare id=43627924&doc=2015-drkpi-facebook-wef-davois-drkpi-150118034903-conversion-gate01]
So you have read Facebook, viral marketing or #wef15 – why benchmark ? Now I would like to ask you a question or two.
– What made you decide to attend WEF Davos 15?
– Think #sustainability #climatechange:
Will any of Klaus Schwab's buzz marketing efforts be convincing enough to get world leaders to work for change…?
– Is it maybe just once again  ===> back to "business as usual" after Davos ends?
– What type of benchmarks and KPIs work best for your business?
Please share your thoughts below. Shall we meet in Davos or Zurich?
https://drkpi.com/wp-content/uploads/2015/01/Klaus-Schwab-what-we-will-do-at-WEF-Davos-2015.png
240
319
Urs E. Gattiker
https://drkpi.com/wp-content/uploads/2019/07/DrKPI-Logo-final-trademark_Zeichenfläche-1.png
Urs E. Gattiker
2015-01-19 00:01:14
2015-01-19 00:01:14
Facebook, viral marketing or #wef15 - why benchmark ?